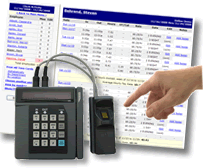 CUT LABOR COSTS
Track actual minutes worked. Eliminate wasted labor minutes
CUT ADMINISTRATIVE COSTS
Automate time tracking and eliminate administrative hours.
INCREASE PRODUCTIVITY
Pay employees for minutes worked only. Eliminate late arrival and early departure.
ELIMINATE "BUDDY PUNCHING"
Prevent employee time theft.
SIMPLE ONLINE EDITING
Log in from any PC to easily manage employee data online.
SIMPLE HARDWARE SETUP
Easily set up hardware in a matter of minutes.